CFUnited 2010 on Wheels
---
As I posted earlier, ColdFusion on Wheels had some community presence at CFUnited 2010, the final year for the conference. There were a lot of great moments during the conference, a few of which I'll highlight in this post.
Wheels Highlighted in Adobe Keynote
One of the bigger moments for me was when Adam Lehman, product manager of Adobe ColdFusion, covered the 2009 launch of ColdFusion on Wheels in Adobe's keynote. The keynote kicked off the conference.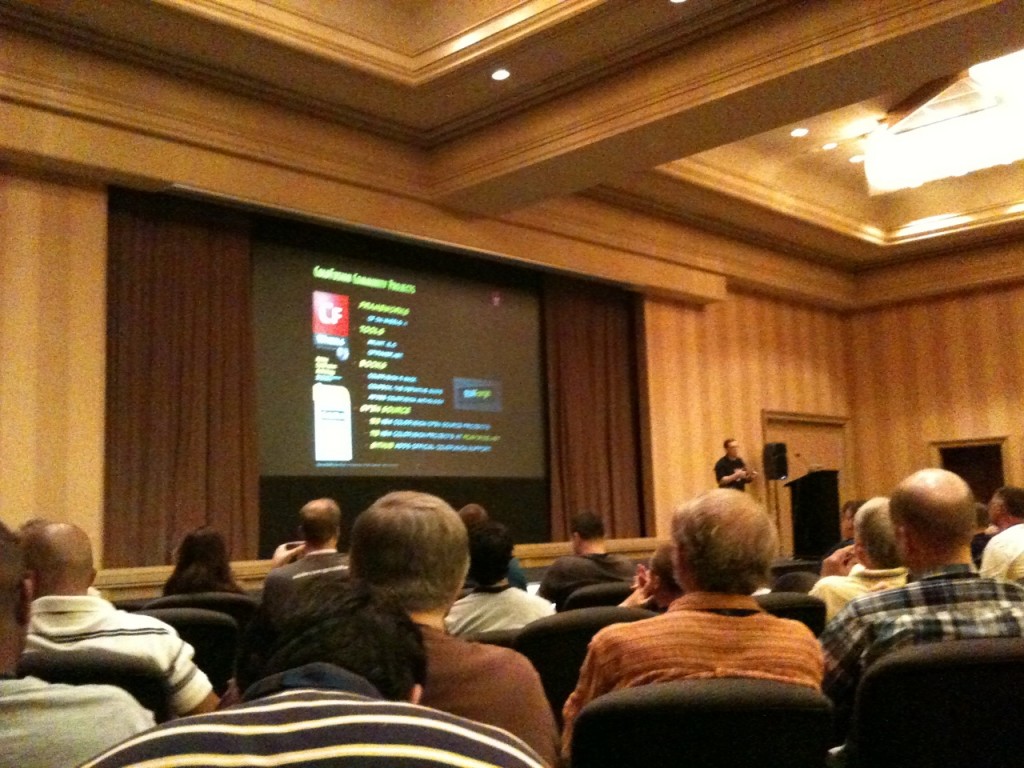 Our logo shined bright and proud on that slide! I know the photo is quite blurry, but it is now my personal goal for all photos of keynote appearances to look like Bigfoot sightings.
Familiar Faces
One of my favorite parts of the event was running into current Wheels users. I wasn't sure what to expect, but I was pleasantly surprised to run across some familiar names. I got a chance to talk a little with Israel Melendez and Nathan Stanford, for example.
Any time that I spoke with some of the better-known CF guys, I almost always received a compliment on how impressed they were with our community and how active and passionate that it is. We should be proud of that. I know I am.
We also handed out 65 Wheels t-shirts to both familiar and new faces. Talk about a good ice-breaker for a first-time conference attendee like me!
Presentations
Thursday was the big day for ColdFusion on Wheels.
Our birds of a feather session was well-attended, with both current Wheels users and new people interested in what the framework could do for them. Thanks Chaz and Mike for helping host it.
Embedded below is the rehearsed version of the presentation that I gave about the Wheels ORM. It's a high level demo of Wheels and what it's like to work with the framework.

Mike Henke also presented about Wheels and Convention over Configuration. You can download Mike's presentation and code on his website.
A Final Thank You
This was my first CFUnited ever, and I'm glad to have experienced it before it ended. Hats off to Michael Smith, Chaz Chumley, and the rest of the CFUnited organizers for the emotional labor and sacrifice that they put into hosting and organizing the conference all of these years.